Acer Iconia A101-3G 8GB using the  Android 3.2 Honeycomb operating system (OS). Iconia A101  equipped with Nvidia Tegra 2 T20 processor Chipset Dual-Core 1 GHz Cortex-A9 ULP GeForce roccessor, plus the  8 GB up to 32 GB Storage Device capacity . Equipped use 1 GB RAM capacity that supported with 3G HSDPA connectivity up to 21 Mbps, HSUPA 5.76 Mbps, GPS , Bluetooth version 2.1, micro HDMI port and WiFi 802.11 b / g / n. 
This device Have 3G-manufacturer Acer output that comes in two color variants Cerry Red and Blue with glossy finishing, comes with a 7 inch screen size with extraordinary design  and stylish. In terms of design, the shape itself is different from the other  come with the box design. The touch curved at each corner provide discrete size of tablet PC 7-inch. Finishing matte Iconia Tab A101 3G is also quite susceptible to spotting hand and finger dust, although it is quite easy to clean . The weight of the Acer Iconia A101-3G 8GB is also only a very light 470 grams instead.
Product Picture :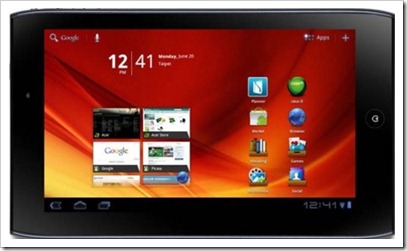 In the Acer Iconia A101-3G 8GB can also find  the Acer Day Planner that can help you to see the agenda, send an e-mail, view weather forecasts, read the news and immediately in one view. Acer Day Planner can also be directly synchronized with Google calendar, Facebook, and Microsoft Exchange. So if all the usual activities you do using a wide range of applications can now be done in one application that Acer Day Planner. In addition, at the Acer Iconia A101-3G 8GB is still there standard applications such as Acer Iconia Tab Social Jogger, Clear.fi, Acer Sync and Acer Media.
Acer Iconia A101 Android Tablet-8GB 3G is also equipped with Rear Camera 5 MP, 2592 x 1944 pixels, autofocus, LED flash and a 2 MP front camera. So for those of you whose hobby using the camera to capture a moment , this device is perfect for you, or maybe you are happy to perpetuate yourself with friends – friends through a photograph is guaranteed you will be very comfortable once using the Acer Iconia A101 Android Tablet-3G 8GB. Besides being large enough camera resolution and the size of the Android Tablet is also arguably not too large, the Acer Iconia A101-3G 8GB has a size of 195 x 117 x 13.1 mm just so you will not inconvenience when using it. On the lower right side, there is a SIM card slot and microSD slot. Even comes with a simcard slot, but the Acer Iconia Tab A101 is not equipped with telephony features. This makes the inserted SIM card can only be used for surfing the Internet. While on the upper right side, there are volume buttons and a button to lock the screen position.
Acer Iconia A101 Android Tablet-3G 8GB is one of the advanced Android Tablet with Android tablet prices are cheap and affordable. The Price only about  USD $ 400 , you can bring home a stylish  and sophisticated Android Tablet. Acer Iconia A101-3G 8GB is very interesting is not this one, has a stylish design with powerful specs but still at a price that does not make you run out of the wallet.